Our Mission
Anvil & Hammer Studios will increase ROI by providing high quality, yet affordable design. We will forge a successful brand identity that creates profits using the latest technology and trends to improve your marketing material, designs, online marketing and social media.
Our Forge
Our Brand Blacksmiths can forge a brand for you using an affordable template solution or just keeping to your budget whether it be large or small. We specialize in flexibility and versatility for a custom and personable experience for your business!
Read More >>
Custom Design
At our agency, we have always been focused on inexpensive design solutions, but our roots are in custom graphics and web design. So if you need a custom logo, business card, brochure or a full HTML5 device responsive website, we are your answer.
Learn more>>
Welcome to Anvil & Hammer Studios!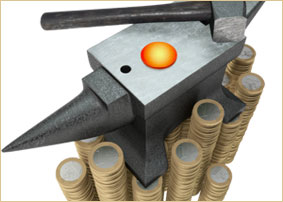 Anvil & Hammer can make your dollars work for you with return on investment. You want a custom and high-quality design at an affordable price, and that is why we are here. Low budgets CAN get an amazing design with our templates and we will drop your content and photos in there and switch it to your corporate colors. If you have a few extra bucks, we can customize it for you and even handle the printing, removing the guesswork!